Sarah-Jane Redmond in Da Vinci's Inquest: God Forbid We Call It What It Is
Da Vinci's Inquest was a Canadian dramatic television series first broadcast on CBC Television from 1998 to 2005. Seven seasons of thirteen episodes each were filmed for a total of ninety-one episodes. The show, set and filmed in Vancouver, stars Nicholas Campbell as Dominic Da Vinci, once an undercover officer for the RCMP, but now a crusading coroner who seeks justice in the cases he investigates.
As well as actress Sarah-Jane Redmond starring as Sgt. Sheila Kurtz, the cast also includes Gwynyth Walsh as Da Vinci's ex-wife and Chief Pathologist, Patricia Da Vinci, Donnelly Rhodes as detective Leo Shannon, and Ian Tracey as detective "Mick" Leary.
This page includes a scene with Sarah-Jane from the Season 5 episode, God Forbid We Call It What It Is.
Episode synopsis - God Forbid We Call It What It Is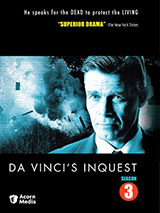 Da Vinci uncovers some disturbing information about one of the commingled bodies. Kosmo finds more evidence that a cop may be involved in a drug dealer's death. Rose continues to help Shannon and Leary in their search for a killer.
Season 5 episode 7.

Director:
William Fruet

Written by:
Chris Haddock, Alan Di Fiore, Frank Borg
The Da Vinci brand is copyright © DaVinci Releasing Inc 2007. All rights reserved. Da Vinci's Inquest and all related characters are © Copyright Haddock Entertainment and its related entities. All Rights Reserved.
Video courtesy of Living Channel.