Alienated

Alienated is a dark comedy about the Blundells, a suburban family trying to cope with the bizarre side effects of alien abduction. Glowing sperm, ferocious sex drives, and irresistible pheromones are just the beginning. Living with the changes isn't easy, especially because no one believes their story. Neighbours think they're crazy, the police are filing a report, and Child Services is threatening to break up the family. It's enough to make anyone feel, well... Alienated.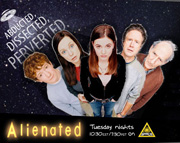 Created by a talented team including Director Mark Sawyers, Executive Producers Stephen Hegyes, Shawn Williamson and Mark Sawyers with Producer Cynthia Chapman. Alienated is a Sci-Fi Comedy TV series on the Space Channel. Featuring Sarah-Jane Redmond as Sarah Blundell, struggling to cope with family life with the added madness of being a family of alien abductees. "Playing Sarah Blundell in Alienated is a good stretch, according to Redmond, who enjoys the character's unladylike antics and valiant efforts to keep it all together." - Alienated.tv
The cast also includes Jonathan Whittaker, Iris Graham, Andrew Robb and Campbell Lane.
Alienated is comprised of 2 seasons, with each season containing a total of 11 episodes.
Sarah Blundell - Official Character Description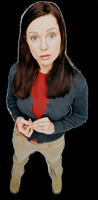 Sarah faces some challenges trying to keep a household functioning smoothly. She doesn't mean to be controlling, but it's hard when no one will cooperate with her. Things do not improve much after aliens abduct her family. Her 79-year-old father George is suddenly acting like a teenager. Husband Roger went from dopey indifference to sexual insatiability overnight, and it's hard to know which is worse. At first, the rekindled passion was great. But when Roger's sperm started glowing, well, Sarah kind of lost her interest in sex. Her kids won't obey her, and when she tries to confide in her friend Roxanne, there's not much sympathy. How will she keep her family safe? Even the police are no help at all. But that's not going to deter Sarah. She's one determined lady.
Official Website: http://www.alienated.tv/ Featuring program episode guides, character information and credit listing.
Alienated is available on Space: The Imagination Station and is produced by Brightlight Pictures.
Sarah-Jane says:
"Alienated was one of the best experiences I had ever had, mainly because, I grew up in a very 'proper', english household, swearing, uh, .....human gas.....uh, all were no no's, so when i had to do this series, being goofy, laughing so much, sex, human gas, and all the rest that was spoken about so blatenly was sooooo much fun and so freeing for me. It was the first comedic role I had had really, and Mark Sawers, the creator unleashed a monster, I developed quite a silly nature because of that, and I am so thankful for that!"
"Alienated" and all related characters are © Copyright Brightlight Pictures and its related entities. All Rights Reserved.