Official website of actress Sarah-Jane Redmond
Welcome and thank you for your interest in film and television actress Sarah-Jane Redmond! This website features detailed information, articles and interviews with Sarah-Jane and now contains improved navigation and search facilities, together with new media which includes video clips of Sarah-Jane in several of her most popular roles and also her latest demo reel.
Its now even easier to keep up to date with Sarah-Jane's latest roles and film, television and DVD release dates by RSS. We hope you like the new improved SarahJaneRedmond.com!
17 Aug 2014 by Graham P. Smith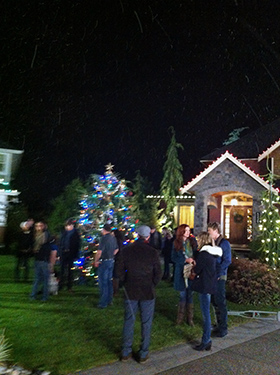 Sarah-Jane Redmond has provided an on-set photo from Debbie Macomber's Mr. Miracle, in which she portrays character Sharon Folsom. The film, directed by Carl Bessai, is a further partnership between Hallmark Channel And New York Times Bestselling Author Debbie Macomber.
Debbie Macomber's Mr. Miracle stars Rob Morrow ("Northern Exposure," "Numb3rs"), with Michelle Harrison ("Continuum"), Britt Irvin ("Packages from Planet X"), Sarah-Jane Redmond ("Da Vinci's Inquest, The X-Files") and Andrew Francis ("Max Steel").
Additional information from the Press Release:
Hallmark Channel is pleased to announce that it is partnering once again with beloved #1 New York Times bestselling author Debbie Macomber to create its fourth Hallmark Channel Original Holiday Movie World Premiere "Debbie Macomber's Mr. Miracle," slated to debut Holiday 2014.
The movie and backdoor pilot will be part of the network's hugely popular "Countdown To Christmas," the #1 most treasured holiday destination by television viewers.
Previously, Hallmark Channel partnered with Macomber to bring the holiday movies "Debbie Macomber's Mrs. Miracle," "Debbie Macomber's Call Me Mrs. Miracle" and "Debbie Macomber's Trading Christmas" to the small screen. Audiences fell in love with the film adaptations of Macomber's bestselling books, all of which were so successful that they became among the top rated holiday movies on the network.
In "Debbie Macomber's Mr. Miracle," heaven and earth collide when angel-in-training Harry Mills, A.K.A "Mr. Miracle" is sent down to a community college during Christmas for his first assignment: to help an insecure student realize her true purpose in life. Harry, living as a literature teacher, is also schooled in lessons of life and love as he realizes that dealing with humans is not as easy as it looks like from the clouds.
Hallmark Channel, owned and operated by Crown Media Holdings, Inc., is a 24-hour basic cable network that provides a diverse slate of high-quality entertainment programming available in high definition (HD) and standard definition (SD) to a national audience of over 86 million subscribers.
You can learn more about Mr Miracle by Debbie Macomber here:
http://www.debbiemacomber.com/books/mr-miracle
18 Jun 2014 by Graham P. Smith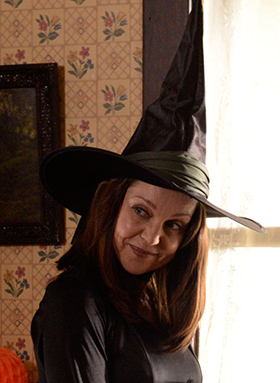 Later this year, actress Sarah Jane Redmond will return to guest star in a second episode of R.L. Stine's The Haunting Hour, an award winning horror-fantasy series broadcast on the The Hub Network. The Halloween themed episode will be broadcast in October 2014 and is titled 'Return of the Pumpkinheads'.
You can learn more about RL Stine's The Haunting Hour at the show's official website at hubnetwork.com or at the show's official Twitter page.
17 Jun 2014 by Graham P. Smith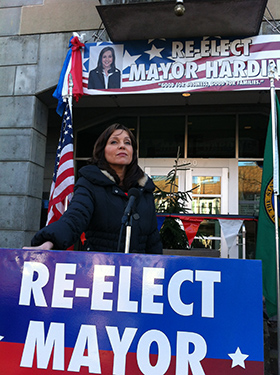 Sarah-Jane Redmond has provided a great photo of herself taken on the set of forthcoming thriller Buried Secrets. Sarah-Jane will appear in the role of Mayor Harding; the film co-stars Dan Payne as Barry Trent and Angela de Lieva as Brooke Winters.
"Ex-cop Sarah Winters finds herself on the wrong end of the law when she publishes her first novel. A book that seems to document an all too real murder."
Buried Secrets was written by Lindsay James and is directed by Monika Mitchell.
16 Jun 2014 by Graham P. Smith
Later this year, Sarah-Jane will also be appearing as Mrs. Grant, in the forthcoming crime drama Dark Harvest.
"A suspended narcotics officer forces a marijuana grower into a partnership to solve the murder of the grower's best friend."
Dark Harvest was written and directed by James Hutson (Supernatural, The Lone Gunmen, Smallville), the film also stars Alan C. Peterson (Caprica, Smallville, Stargate Atlantis) and Hugh Dillon (Continuum, The Killing and Flashpoint).
07 Oct 2013 by Graham P. Smith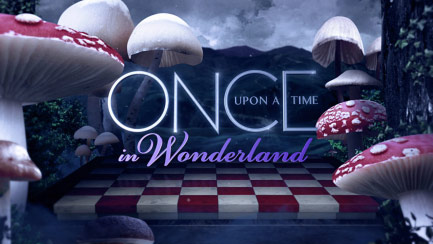 Actress Sarah-Jane Redmond has confirmed that she has just completed filming a guest role on the new television series Once Upon A Time In Wonderland, an American fantasy-drama series that was created by writers Edward Kitsis and Adam Horowitz for ABC Studios. The program is a spin-off of Once Upon a Time and will air on ABC at 8pm on Thursday nights in the 2013–14 television season.
Due to the nature of the series, Sarah-Jane can't reveal the character but the series introduction that follows will tell you a little more about this magical series...
... In Victorian England, the young and beautiful Alice (Sophie Lowe) tells a tale of a strange new land that exists on the other side of a rabbit hole. An invisible cat, a hookah smoking caterpillar and playing cards that talk are just some of the fantastic things she's seen during this impossible adventure. Surely this troubled girl must be insane and her doctors aim to cure her with a treatment that will make her forget everything. Alice seems ready to put it all behind her, especially the painful memory of the genie she fell in love with and lost forever -- the handsome and mysterious Cyrus (Peter Gadiot). But deep down Alice knows this world is real and just in the nick of time, the sardonic Knave of Hearts (Michael Socha) and the irrepressible White Rabbit (John Lithgow) arrive to save her from a doomed fate. Together, the trio will take a tumble down the rabbit hole to this Wonderland where nothing is impossible.
04 Jul 2013 by Graham P. Smith
Actress Sarah-Jane Redmond is currently teaching a course at The West Vancouver Rec Centre. The course details follow:
Led by Sarah-Jane Redmond, an acclaimed professional actor with over 20 years of outstanding credentials. This is a fantastic course for youth that are exploring their interest in acting or want to know more about the film and television industry. Students will learn skills in how to audition, on-camera technique and how to develop a career in the industry. Most importantly, they will experience what makes them unique, and how to give honest, truthful performances.
Level 2
Led by Sarah-Jane Redmond, an acclaimed professional actor with over 20 years of outstanding credentials.  This course is perfect for youth that have either taken the beginners course, or have some knowledge and experience of the film industry.
The students will focus more on scripts, on-camera scenes, character development and career advancement.  Fun improv games are used for warm up, and a showcase for parents at the end is offered!
27 May 2013 by Graham P. Smith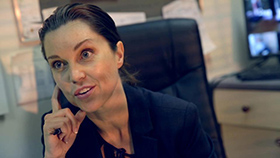 So far it's been a very busy year for Sarah-Jane. Beginning with a cameo on indie film Down Here directed by Teach Grant, Down Here is set in the wake of tragedy... "A troubled detective clings to the last remaining semblance of the man he once was, to protect the city's most vulnerable, the impoverished and disenfranchised. However, it is this fragile community that just might provide him with the salvation he is ultimately searching for."
Learn more about Down Here.
Sarah-Jane then worked on the lead role in True Love Waits directed by Jon Onvoy. True Love Waits is an exciting new short film being produced through a grant from BCFIlm and the MPPIA. "In the confines of the show windows at 'Wedgely's for Women' Judy Thibeault is queen. For more than 35 years she has been creating the eye-catching displays that have drawn several generations of the City's women through Wedgely's doors and played a huge role in making the store the success it is."
You can follow developments and learn more about True Love Waits at the official Facebook page.
Sarah-Jane was back working with Peter DeLoiuse on Garage Sale Mystery, a Hallmark Movie Channel production based on the novel Garage Sale Stalker by Suzi Weinert, the first novel in her series of Garage Sale Mystery books. Garage Sale Mystery will premiere on Hallmark Movie Channel on Saturday, August 24 (9p.m. ET/PT, 8C).
Next Sarah-Jane began work on Psych with Michael Anthony Hall, who Sarah worked with on the acclaimed The Dead Zone television series.
Following on from her role in Psych, Sarah-Jane is working on a supporting lead role on TNT's King and Maxwell, a 10 episode series adapted from characters created by bestselling author David Baldacci. Based on David Baldacci's King & Maxwell novel series, and developed by NCIS boss Shane Brennan, the drama series follows former US Secret Service agents turner Private Investigators Sean King and Michelle Maxwell who use their unique skill set to give themselves a leg up on both suspects and conventional law enforcement. Forming part of TNT's summer line-up, the series premiere of King & Maxwell is scheduled for Monday June 10th at 10/9c.
18 May 2013 by Graham P. Smith
Sarah-Jane Redmond has recently worked once again with director Kristopher Tabori, this time on the heart warming GMC comedy drama The Carpenter's Miracle, and also on Hallmark's Tom Dick & Harriet.
Sarah and Kristopher last worked together over 15 years ago on the television series Sleepwalkers with Naomi Watts.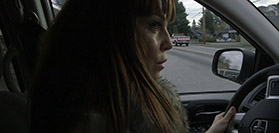 The two projects can currently be viewed online at the following links (dependant upon the speed of your internet connection):
(For info - these are large HD files).
The Carpenter's Miracle (Stream) | The Carpenter's Miracle (Download).
Tom, Dick, & Harriet (Stream) | Tom, Dick, & Harriet (Download).
19 Nov 2012 by Frank Garcia
On October 30, 2012 Sarah Jane guest starred in the U.S. CW Network medical drama series Emily Owens, M.D. as the mother of a young man who becomes involved with sexually transmitted diseases (STDs). The episode is titled "Emily and...The Outbreak".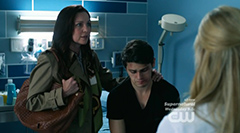 18 Nov 2012 by Graham P.Smith
Sarah-Jane Redmond recently appeared in the Arrow episode 'Legacies'. Presented below are two images showing Sarah-Jane in her role of 'Mrs Reston'.
Images supplied by Frank Garcia.
Arrow stars Stephen Amell as Oliver Queen/Green Arrow and airs on The CW Network on Wednesdays at 8:00 pm Eastern/7:00 pm Central. The series is available internationally as well as showing weekly on SkyHD in the UK, every Monday at 8pm.