Sarah-Jane Redmond as Lucy Butler in Millennium - Lamentation (2)
Retired serial-profiler Frank Black has moved his family to Seattle to escape the violence and horror he dealt with while working for the FBI in Washington, D.C. Although his uncanny and often unsettling ability to see into the twisted minds of serial killers has caused him much inner torment, Black knows his "gift" can still be used to help protect and save others. For that reason he has joined the mysterious Millennium Group, a team of underground ex-law enforcement experts dedicated to fighting against the ever-growing forces of evil and darkness in the world.
This page includes a a second video clip from the episode Lamentation featuring Sarah-Jane as the evil and seductive Lucy Butler, this time where actor Bill Smitrovich as Lt. Bob Bletcher sees the real-side of Lucy Butler.
Episode synopsis - Lamentation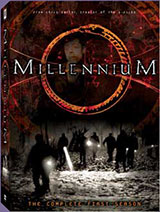 When a psychopathic doctor once captured by Frank Black escapes his hospital bed after requiring an operation, the famed profiler is called to Washington D.C. to aid in his recapture. As Frank and Peter Watts uncover clues regarding the escape they're introduced to Lucy Butler, a mysterious and dangerous woman who indicates that dark forces have specific targets that are close to Frank's home and that evil itself has plans for Frank's life.
Season 1 episode 17.

Director:
Winrich Kolbe

Written by:
Chris Carter
"MILLENNIUM" and all related characters are © Copyright Twentieth Century Fox Home Entertainment, Inc and its related entities. All Rights Reserved.