09 Mar 2018 by Graham P. Smith
Sarah-Jane Redmond is looking forward to commencing work on a recurring role on the forthcoming mini-series, The Bletchley Circle: San Francisco, the first original drama series from BritBox, the streaming service from BBC Worldwide and ITV.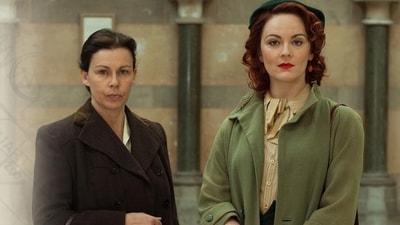 BritBox provides a collection of British television content in the U.S and Canada. Sarah-Jane advises that filming is set to begin in mid-March and will be directed by Gary Harvey.
The spinoff from mystery drama The Bletchley Circle is being produced by Omnifilm Entertainment in association with BritBox and World Productions, the producer of the original show. Set to premiere on BritBox and on ITV later this year, The Bletchley Circle: San Francisco is presented as four stories, each unfolding over two episodes.
The Bletchley Circle: San Francisco picks up roughly four years after the start of the original mini-series The Bletchley Circle, which focused on four women who returned to their normal lives after working at Bletchley Park, the site where the Germans' infamous 'enigma cypher' was broken by British mathematicians and code breakers during World War II.
Set in 1956, The Bletchley Circle: San Francisco features two of the original series' lead characters, Millie (Rachel Stirling) and Jean (Julie Graham) who travel to America and join forces with two U.S. code breakers. Using their unique skills and intellectual abilities, the four women attempt to solve complex mysteries that baffle local law enforcement.
Visit BritBox's website to learn more.