18 Jan 2005 by Graham P. Smith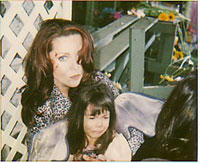 Visitors from the UK should look out for Sarah-Jane Redmond as Nell Potter when Season One of Smallville returns with daily episodes.
TV Channel E4, part of the UK's Channel Four shows several mixed daily episodes of Smallville, which on Monday, 24th January will return to the beginning with season one's Pilot Episode. The Pilot can be seen at 3pm to 4pm and again at 6pm to 7pm.
Meanwhile season four of Smallville commences at 9pm and repeats later at Midnight to 1am. UK Views may also be interested in the Smallville - Backstage Special which is again, on E4 at 8pm Saturday January 22nd when cast members including Tom Welling, Kristin Kreuk, John Schneider and Annette O'Toole discuss their favourite episodes and recall humorous on-set incidents.