29 Mar 2015 by Graham P. Smith
Sarah-Jane Redmond will be joining the cast in season three of Hallmark Channel's highly-rated Primetime Original Series, Debbie Macomber's Cedar Cove. The primetime drama, starring Andie MacDowell and Dylan Neal, makes its anticipated return with a special two-hour season premiere July 2015.
Cedar Cove, based on the bestselling book series by #1 New York Times bestselling author Debbie Macomber, takes viewers to a majestic and idyllic small seaside town of Cedar Cove, home to romance, relationships and drama. At the center of it all is Olivia Lockhart (MacDowell), the revered Cedar Cove Municipal Court judge, lifetime resident, loving mother and loyal friend to many. As Olivia's romance with newspaper editor Jack (Neal) hangs in the balance following a shocking discovery, Olivia, along with her family and friends, will find her small town is bursting with more drama and heart than ever before.
Debbie Macomber's Cedar Cove season three will be produced by Unity Pictures and distributed by Dan Wigutow Productions. Executive producers are Dan Wigutow, Sue Tenney, Ron French and Stephen Harmaty. Tenney is the show runner.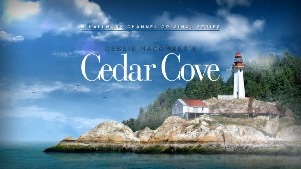 Visit the official Cedar Cove website to learn more and watch official video previews and clips.