17 Aug 2014 by Graham P. Smith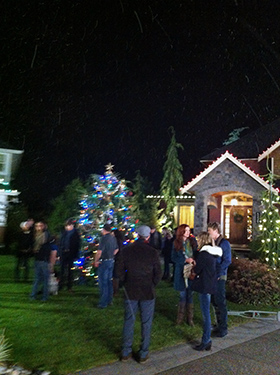 Sarah-Jane Redmond has provided an on-set photo from Debbie Macomber's Mr. Miracle, in which she portrays character Sharon Folsom. The film, directed by Carl Bessai, is a further partnership between Hallmark Channel And New York Times Bestselling Author Debbie Macomber.
Debbie Macomber's Mr. Miracle stars Rob Morrow ("Northern Exposure," "Numb3rs"), with Michelle Harrison ("Continuum"), Britt Irvin ("Packages from Planet X"), Sarah-Jane Redmond ("Da Vinci's Inquest, The X-Files") and Andrew Francis ("Max Steel").
Additional information from the Press Release:
Hallmark Channel is pleased to announce that it is partnering once again with beloved #1 New York Times bestselling author Debbie Macomber to create its fourth Hallmark Channel Original Holiday Movie World Premiere "Debbie Macomber's Mr. Miracle," slated to debut Holiday 2014.
The movie and backdoor pilot will be part of the network's hugely popular "Countdown To Christmas," the #1 most treasured holiday destination by television viewers.
Previously, Hallmark Channel partnered with Macomber to bring the holiday movies "Debbie Macomber's Mrs. Miracle," "Debbie Macomber's Call Me Mrs. Miracle" and "Debbie Macomber's Trading Christmas" to the small screen. Audiences fell in love with the film adaptations of Macomber's bestselling books, all of which were so successful that they became among the top rated holiday movies on the network.
In "Debbie Macomber's Mr. Miracle," heaven and earth collide when angel-in-training Harry Mills, A.K.A "Mr. Miracle" is sent down to a community college during Christmas for his first assignment: to help an insecure student realize her true purpose in life. Harry, living as a literature teacher, is also schooled in lessons of life and love as he realizes that dealing with humans is not as easy as it looks like from the clouds.
Hallmark Channel, owned and operated by Crown Media Holdings, Inc., is a 24-hour basic cable network that provides a diverse slate of high-quality entertainment programming available in high definition (HD) and standard definition (SD) to a national audience of over 86 million subscribers.
You can learn more about Mr Miracle by Debbie Macomber here:
http://www.debbiemacomber.com/books/mr-miracle