27 May 2013 by Graham P. Smith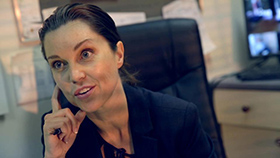 So far it's been a very busy year for Sarah-Jane. Beginning with a cameo on indie film Down Here directed by Teach Grant, Down Here is set in the wake of tragedy... "A troubled detective clings to the last remaining semblance of the man he once was, to protect the city's most vulnerable, the impoverished and disenfranchised. However, it is this fragile community that just might provide him with the salvation he is ultimately searching for."
Learn more about Down Here.
Sarah-Jane then worked on the lead role in True Love Waits directed by Jon Onvoy. True Love Waits is an exciting new short film being produced through a grant from BCFIlm and the MPPIA. "In the confines of the show windows at 'Wedgely's for Women' Judy Thibeault is queen. For more than 35 years she has been creating the eye-catching displays that have drawn several generations of the City's women through Wedgely's doors and played a huge role in making the store the success it is."
You can follow developments and learn more about True Love Waits at the official Facebook page.
Sarah-Jane was back working with Peter DeLoiuse on Garage Sale Mystery, a Hallmark Movie Channel production based on the novel Garage Sale Stalker by Suzi Weinert, the first novel in her series of Garage Sale Mystery books. Garage Sale Mystery will premiere on Hallmark Movie Channel on Saturday, August 24 (9p.m. ET/PT, 8C).
Next Sarah-Jane began work on Psych with Michael Anthony Hall, who Sarah worked with on the acclaimed The Dead Zone television series.
Following on from her role in Psych, Sarah-Jane is working on a supporting lead role on TNT's King and Maxwell, a 10 episode series adapted from characters created by bestselling author David Baldacci. Based on David Baldacci's King & Maxwell novel series, and developed by NCIS boss Shane Brennan, the drama series follows former US Secret Service agents turner Private Investigators Sean King and Michelle Maxwell who use their unique skill set to give themselves a leg up on both suspects and conventional law enforcement. Forming part of TNT's summer line-up, the series premiere of King & Maxwell is scheduled for Monday June 10th at 10/9c.