08 Sep 2012 by Graham P. Smith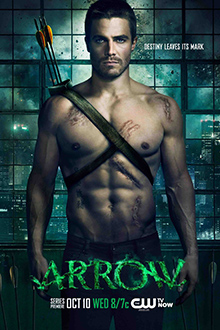 Sarah-Jane Redmond has been enjoying working on her next televison role. Sarah will be appearing on Arrow, an action/adventure television series based on Green Arrow, the DC Comics superhero character. Arrow's pilot episode has been directed by respected Smallville, Millennium and X-Files veteran David Nutter.
Arrow stars Stephen Amell as Oliver Queen/Green Arrow and will air on The CW on Wednesdays at 8:00 pm Eastern/7:00 pm Central, starting October 10th, 2012. The re-imagined series is also coming to Sky in the UK.
Whilst you wait for the series, you can learn more about Arrow at The CW website and also watch the Arrow trailers and interviews available on YouTube.