05 Jul 2010 by Graham P. Smith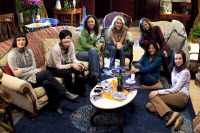 Sarah Jane Redmond is back on screen in a new two-hour Hallmark Channel Original Movie entitled Lies Between Friends. The film was written and directed by Walter Klenhard and was produced by Joe Lawlor, Laurie Goldstein and Harvey Kahn.
Sarah plays the role of Laura. Lies Between Friends also features Gabrielle Anwar (Joss Jenner), Craig Sheffer (Sheriff Watts), Susan Hogan (Rebecca), Venus Terzo (Stephanie), Thea Gill (Cait) and Carrie Genzel (Beth).
Lies Between Friends premiers on the Hallmark Channel on Saturday 31st of July 2010. Below is a brief synopsis of the movie:
When seven college friends reunite a decade after graduation for a weekend, one is mysteriously murdered. Her former room-mate, with whom she had a falling out, collaborates on the investigation with the local sheriff to desperately seek answers about the murder and their past.
You can visit the official Lies Between Friends website for more information, downloads and a selection of trailers and behind the scenes videos.