23 Dec 2004 by Graham P. Smith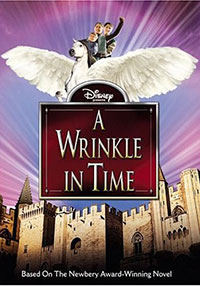 UK based fans can see more of Sarah-Jane Redmond in the children's sci-fi adventure, A Wrinkle in Time. Sky Movies, part of the Sky Digital satellite network is currently screening the film on a regular basis.
Sarah-Jane plays Dr Murray, the mother of a group of young children who are whisked off on a marvellous adventure to rescue their missing father in this modern time film adaptation of Madeleine L'Engle's 1963 book, A Wrinkle in Time. Sky describes the film as "A family fantasy with an intriguingly original story". Apart from Sarah-Jane, the 128 minute adventure stars Katie Stuart, David Dorfman, Gregory Smith, Kate Nelligan and an excellent performance by Alfre Woodard. Featuring some excellent special effects and stunning photography for a TV Movie budget, its an excellent film to sit down and relax with the children over Christmas. The film has been given a PG rating, was produced in 2003 and is directed by John Kent Harrison.
For non-UK visitors, A Wrinkle In Time is available at Amazon.com on DVD and VHS Video. The film is also available at Amazon.ca (Canada) on DVD and VHS Video.
UK viewers can tune into the Sky Movie satellite channels on the forthcoming dates below:
Friday 24 December 13:45 Sky Movies 1
Monday 27 December 10:15 Sky Movies 3
Tuesday 28 December 04:10 Sky Movies 3