Media
Want to see more examples of Sarah-Jane Redmond in action? Below you will find links to the image gallery and video sections of our website.
Sarah-Jane Redmond Video Index
Access a list of video clips featuring Sarah-Jane Redmond, including scenes from her popular tv and film roles, plus the opportunity to view her online demo reel.
Sarah-Jane Redmond Image Gallery
We've moved all of our existing images into a new modern feature-laden Image Gallery at the website Millennium-This is who we are. If you are a registered member at This is who we are, you can also comment and rate the images as well as view image slideshows! If not, don't worry, you can still view all of our images but just without the option to add comments or rate images.
Inside the Gallery, visitors can enjoy viewing episode stills, photographs and related images from many of Sarah-Jane's roles, TV shows and films. Sarah-Jane has also kindly supplied some treasured personal photographs which she has had taken from various movie and TV sets throughout her career.
Sarah-Jane Redmond Audio and Podcast Interviews
Podcast and audio interviews with Sarah-Jane Redmond:
Sci-Fi Talk - A rare audio interview with Sarah-Jane, conducted by Sci-Fi Talk in March 2007. Sarah-Jane discusses amongst other topics her roles in the thrillers The Entrance and Case 39.
Visit Sci-Fi Talk | Direct download MP3 (18MB).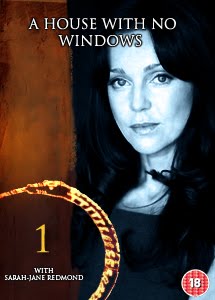 A House With No Windows by Richard Jones- A rare and atmospheric audio download with Sarah-Jane reading aloud a specially selected poem written by Richard Jones. Recorded via Skype from Canada to the UK in 2009 as a fun gift to fans of Chris Carter's Millennium tv series and in support of the campaign to bring about its return, Back to Frank Black. It helped mark Halloween in 2009. Be sure to visit Richard Jones's website Haunted Britain.
Direct download MP3 (1.3MB).
BacktoFrankBlack.com, the campaign dedicated to seeing the return of Chris Carter's Millennium, concluded its special week long homage in September 2009 to Lucy Butler, with an exclusive audio interview with Sarah-Jane. Sarah-Jane answers a plethora of questions on a variety of subjects including her background and how she got into acting, recent film and television roles, and of course her most memorable role as Millennium's Lucy Butler.
BacktoFrankBlack: The Millennium Group Sessions is hosted by Troy Foreman and co-hosted by Jim McLean and is available for free download via BacktoFrankBlack.com and is also available free on iTunes!
You can either download the standard MP3 version audio interview with Sarah-Jane Redmond (for listening to via your computer, tablet, MP3 player or cellphone).